Hello friends, it's August!
And it's really a shame this virus is still running variants - I mean wild.
Why? Because, San Antonio is having a record cool year and the average temperature in our studio hasn't hit 100 degrees! Considering the summer of 2018 hit 120, this is fantastic weather and classes with this studio experience is a breeze.
Alas, the Coronavirus numbers in San Antonio are not favorable and we're faced with the tough decision between requiring masks in class or suspending bookings. I don't care how cool it is, we're still in Texas in the summer. Therefore, we are suspending new bookings for the month of August due to the coronavirus surge in San Antonio. We are accepting reservations for September but they are subject to cancellation if conditions do not improve.
I'd like to send a shout-out to the couple who voluntarily wore masks during their 2-hour immersive experience in July. Their commitment to health and safety is truly commendable. Here he is picking up their bright and summery bowl!
If you're also willing to take unreasonable measures to be safe and want to take a class before September, please contact us directly.
If a class in September sounds great, please learn more about our immersive experience here: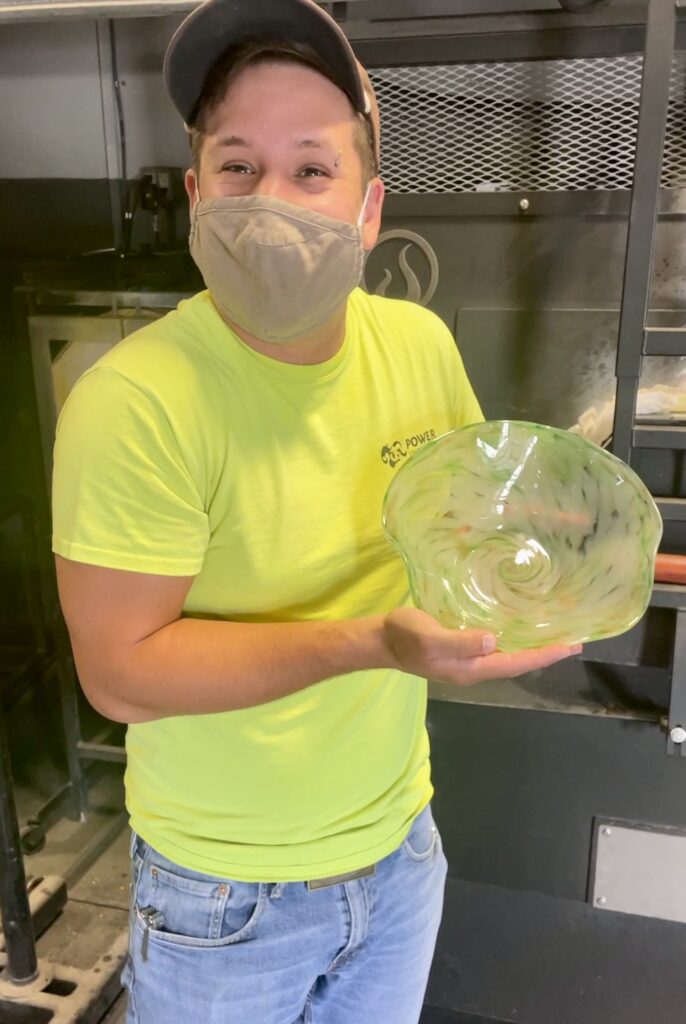 ---
Here's some data
One of the places we get our numbers from is the city of San Antonio's COVID-19 website.  On this page, we're specifically interested in the average case rate.  When we reinstated classes in late June the rate was in the safest range - with a number below 19, just over a month later the number is in the worst range - over 50.
We're really really really looking forward to the day when we can go back to the way things used to be but until the virus is contained we'll settle for sharing our love of glass with you through the interwebs.  Speaking of, take a look at our latest creations!